Asteroseismology: Music of the Stars, is a one-shot black and white comic submission for FTL Y'all comic anthology. Asteroseismology is the study of the inside of stars using their frequencies, which can also be interpreted as sound. A:MotS is the story of an small group of Earth musicians who build a starship out of a used Class C Motorhome (think Winnebago) at their local DIY Maker Space. Their goal is to be the first Earth band to tour the galaxy, launching 6 months after the public release of plans for a $200 FTL hyperdrive that can be built out of common parts.
The band dub themselves and their motorhome-cum-starship Asteroseismology and embark on a comedy of errors as they try to get booked for gigs across the galaxy. Given their sudden uniqueness out in space, they think this will be an easy feat, until the first alien species they meet doesn't even have hearing.
Captain Ember, Ship's Engineer & Bass Player
Greyscale character design sketch.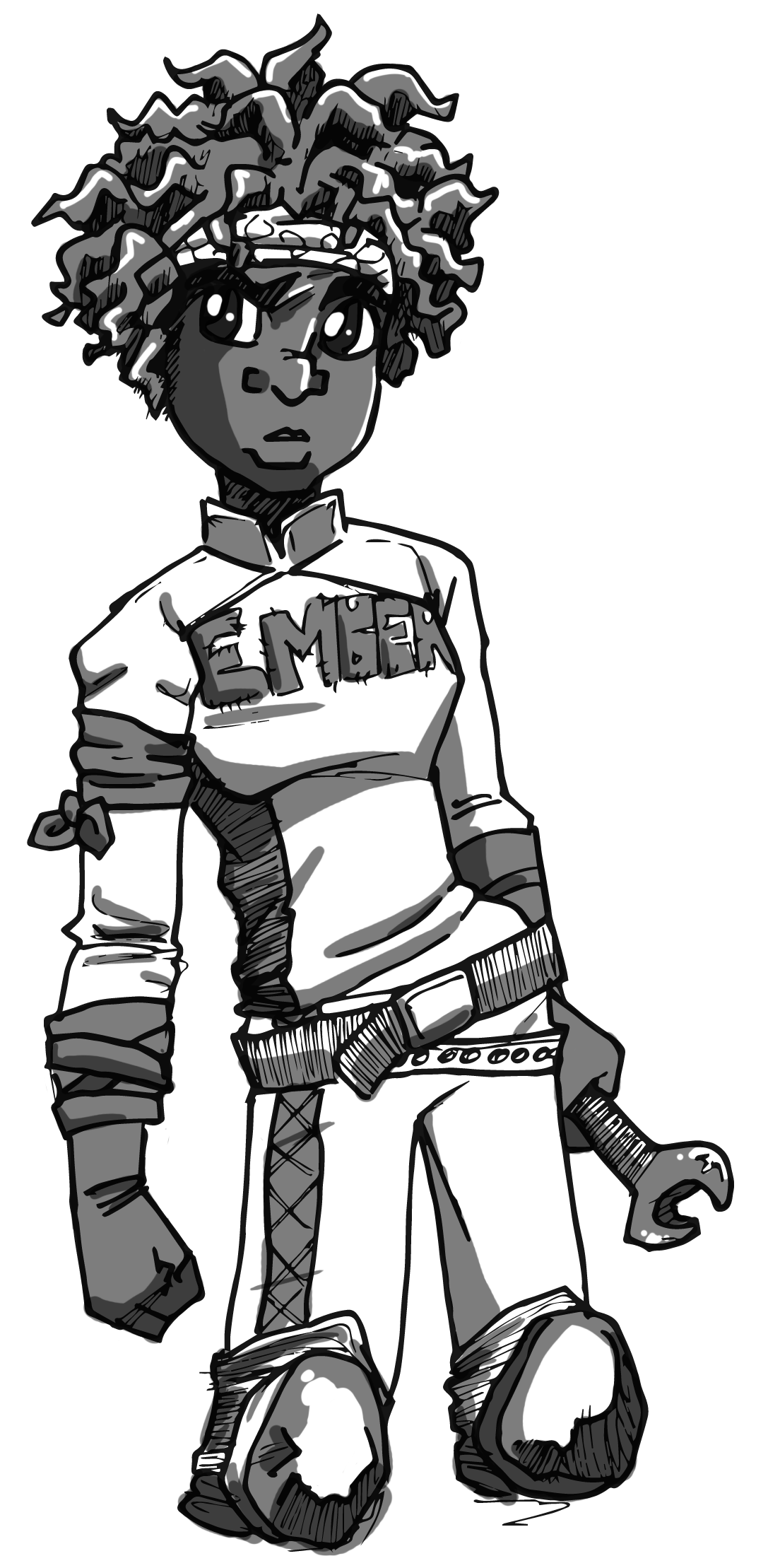 Halftones test.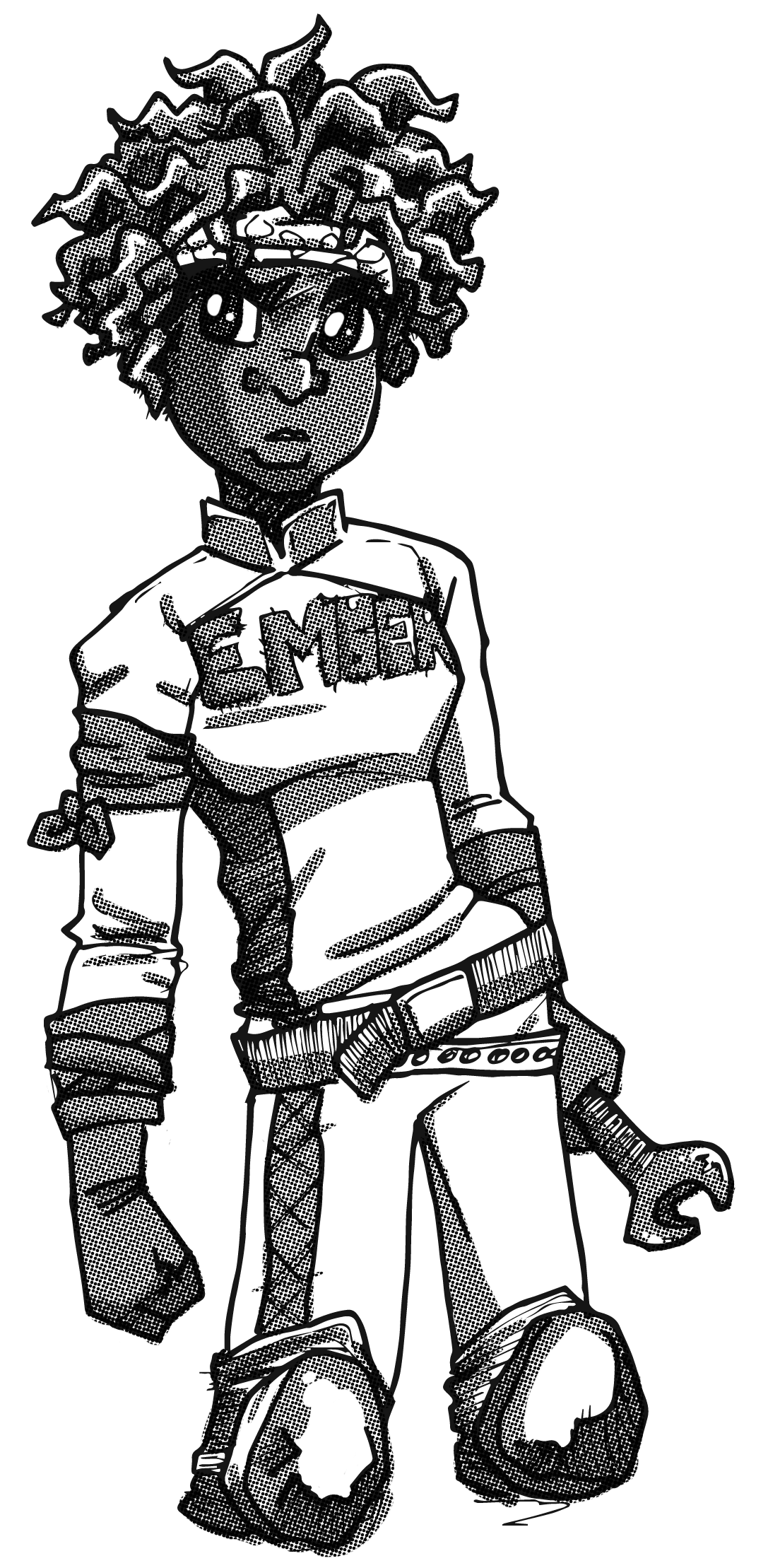 Xochitl, Ship's Communications Specialist & Lead Singer
(And her cat, Meowser, Ship Stowaway)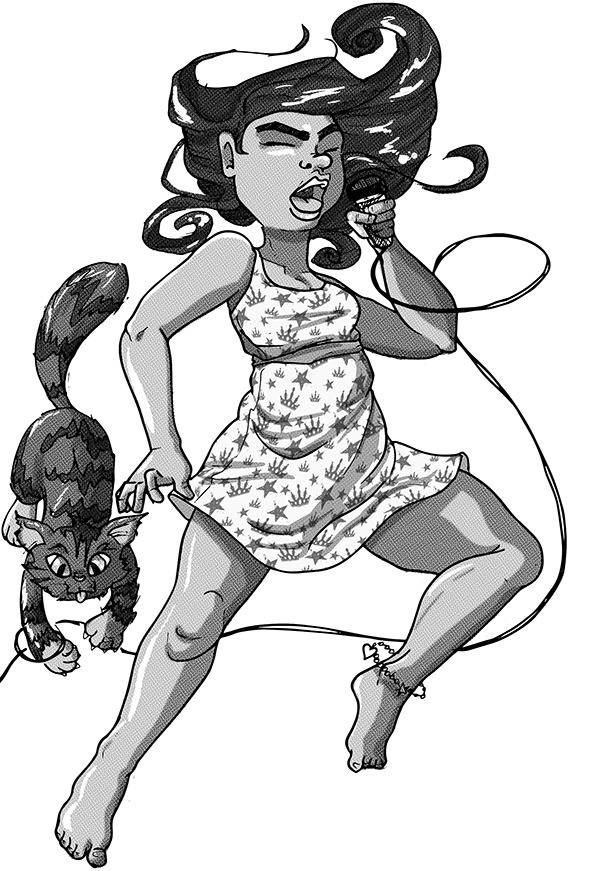 Nasim, Ship's Pilot/Navigation & Lead Guitar
[To Be Added]
Kai, Ship's Crew and Cargo Manager & Drummer
[To Be Added]
First Draft Teaser Preview
EXT. URBAN CENTER, MAKER CENTER
Ember is an average height of 5-foot-something, with dark skin, a wide nose, and a kinky curled afro. They present their androgeny with a mix of styles all across the spectrum.
Ember approaches a tall building with bars on the windows, grafiti on the walls, and litter and weeds on the pavement. A motley assortment of goth-punk youths are hanging out in front of the building, some smoking from electronic vape pens. Ember is greated with grins, clapping, and whoops. A handmade sign over the door proclaims it as the MAKER CENTER.
YOUTH 1
Ember! Today's the day?
Ember nods, duffle bag slung over their shoulder. A grumpy looking teen scoffs.
YOUTH 2
Have fun dyin' in space.
Ember grins and saunters past.
EMBER
Better 'an hangin' with your sorry
butt all day.
INT. MAKER CENTER
Inside the building Ember strolls past the maker space full of entrepid young DIYers, past the artists, and the would-be future revolutionaries.
EXT. MAKER CENTER
Ember emerges into the back lot – a poorly paved space with chainlink fencing and barbed wire to detour thieves and curious raccoons alike. A makeshift spacecraft awaits. The ship is crafted from many sources, the panels mismatched but sturdy. Most notably it appears to be an old Class C motorhome, gutted and remodeled, with an additional trailer and axle fastened to make it longer. The tires are partly shielded and there are small directional rockets attached to each of the four corners. One youth maker space member is putting on the finishing touches to the artwork on the exterior, others mingle around. This last spraypainted stenciled artwork cheerfully proclaims "ASTEROSEISMOLOGY, MAKER CENTER SPACECRAFT 1, [city name blocked from view], UNITED STATES, EARTH, SOL SYSTEM".
At Ember's entrance all heads turn. The artist, Xochitl, smiles brightly. She's a tall hispanic woman with long wavy hair and a cuddly plumpness to her.
XOCHITL
Hey, Captain! I think we're all
loaded up and ready to go.
A fairly short asian youth named Kai rushes over with a clipboard, nervously clicking his pen.
KAI
Gear and crew manifest are
complete, once we have you and your
bag, Captain Ember!
A young Muslim woman in a hijab, with a breezy look about her glides over on wheelie shoes.
NASIM
Flight plan is filed, launch permission obtained from the FAA.
(pauses, finger to her lips)
They laughed and said it's not their problem if we blow up in the
atmosphere, assuming we make it that far.
(she smiles serenely)
But we already knew that.
Kai looks sick with worry. Ember smirks, a look of determination on their face.
EMBER
Hey, the hyperdrive's been out for 6 months now and we're plenty more
prepared than those blokes that drove off a cliff to get lift – and
even they made it out to alpha centauri in one piece!
Ember turned toward the onlookers, many holding their smart phones up and recording.
EMBER
All right, makers! We're off to see the galaxy!
XOCHITL
…After we drive to the pre-approved launch site, pay our
fees, sign a bunch of liability waivers, and air traffic control
lets us launch.
Ember pouts.
EMBER
See, it's less exciting when you say it that way.
Xochitl shrugs and they all board the craft.
INT. ASTEROSEISMOLOGY SPACECRAFT
The interior has been mostly gutted to allow for the front cockpit to have a better dashboard, with laptop connectors and more buttons and levers than you'd need on regular roads, a back storage compartment, lavatory, shower, and four bunks. The front driver and passenger seats have been switched out as well to accomodate captain's chairs with 5 point harnesses. The bunks also each have a 5 point harness on the wall so crew can sit up against the wall and strap in for safety during take-off and landing. Nasim takes the driver's seat and straps in, Ember next to her in the passenger seat. Kai and Xochitl strap themselves into the closest two bunks.
EXT. URBAN CENTER
They drive their monstrosity of a motorhome out of the city limits to the very minimalist launch site: a large, burned up launch pad set way, way far back from the small administration building and the road.
EXT. FTL LAUNCH SITE
They pull up to a lot attendant in uniform with a tablet and stylus. He's chewing bubble gum. Ember rolls down the passenger side window.
ATTENDANT
Yo, ya got an appointment?
EMBER
Yeah, Asteroseismology, Maker Center Spacecraft 1, 9:30am launch.
He nods absentmindedly. And passes them the tablet and
stylus.
ATTENDANT
Gotcha here. Ya credit card went through all right. Sign ya final
forms here and head out to the middle of the launchpad. Tower's on
radio band 9.
Ember signs the form and looks dubiously at the admin building, little more than a shack in a field. Just past it there were cows grazing in the field over a flimsy fence.
EMBER
By tower you mean…
He shrugs and takes the tablet back, walking away.
ATTENDANT
Fig-yah speech. Hope them windows are air tight.
Ember rolls their eyes and the window, mocking the
attendant.
EMBER
I hope those windows are air tight.
Kai pops up from the back seat, still strapped in, still
holding his clipboard.
KAI
I have triple-checked all window and compartment seals this morning
and we're-
EMBER
Chill, Kai. I trust you.
They arrive on the launchpad. Nasim, looking very serious, is flipping switches and typing into the computer. She flips an overhead switch next to a microphone.
NASIM
FTL Traffic Control, Asteroseismology, Maker Center
Spacecraft 1, radio check.
FTL CONTROL
(over radio)
Asteroseismology, FTL Control, I read you 5.
NASIM
FTL Control, Asteroseismology request launch approval.
FTL CONTROL
(radio)
Asteroseismology, you are clear for launch. You must call at approved
FTL altitude before you jump.
Nasim grins mischeviously.
NASIM
FTL Traffic Control, Roger. Asteroseismology commencing launch.
She smashes a button and the motorhome starts to shake and hover, the mini rockets at its four corners igniting and doing the best they can to provide lift. They spit out clouds of exhaust as the motorhome rockets up into the sky. Inside Asteroseismology, Ember, Kai, and Xochitl are
gripping their seats and steeling themselves. Nasim is in her element.
NASIM
Cabin pressure seals are holding. 0.3 kilometer altitude. 0.5
kilometer…
Kai hugs his clipboard anxiously.
NASIM
1 kilometer – almost there.
CAT
Mrow?
Ember's eyes go huge and they turn in their seat.
EMBER
Why do I hear a cat?!
Xochitl blinks innocently.
XOCHITL
What? I don't hear a-
A cat peeks out from Xochitl's bunk.
CAT
MROW, MROW?
Ember glares.
NASIM
FTL Control, Asteroseismology is at 1.5 kilometers altitude, request
permission to jump.
Ember panics.
EMBER
No, wait! There's a –
FTL CONTROL
Asteroseismology, FTL Control, you are clear to jump.
Xochitl scoops the cat up and holds on tight.
Asteroseismology blinks out of the sky.
EXT. OUTER EARTH ORBIT
The Asteroseismology appears in outer Earth orbit, the
engines offline now.
INT. ASTEROSEISMOLOGY SPACECRAFT, OUTER EARTH ORBIT
Ember grabs their head in frustration.
EMBER
Xochitl! I said no pets!
Xochitl frowns and wrinkles her forehead.
XOCHITL
Did you tell that to Meowser?
Ember grumps. Nasim smirks, fiddling with the dash.
NASIM
FTL Control, Asteroseismology has reached outer Earth orbit.
FTL CONTROL
Asteroseismology, acknowledged. Be sure to radio in on your return
flight before entering the Earth's atmosphere.
NASIM
FTL Control, wilco. Asteroseismology out.
(adjusting settings)
Okay, Captain. Where to first?